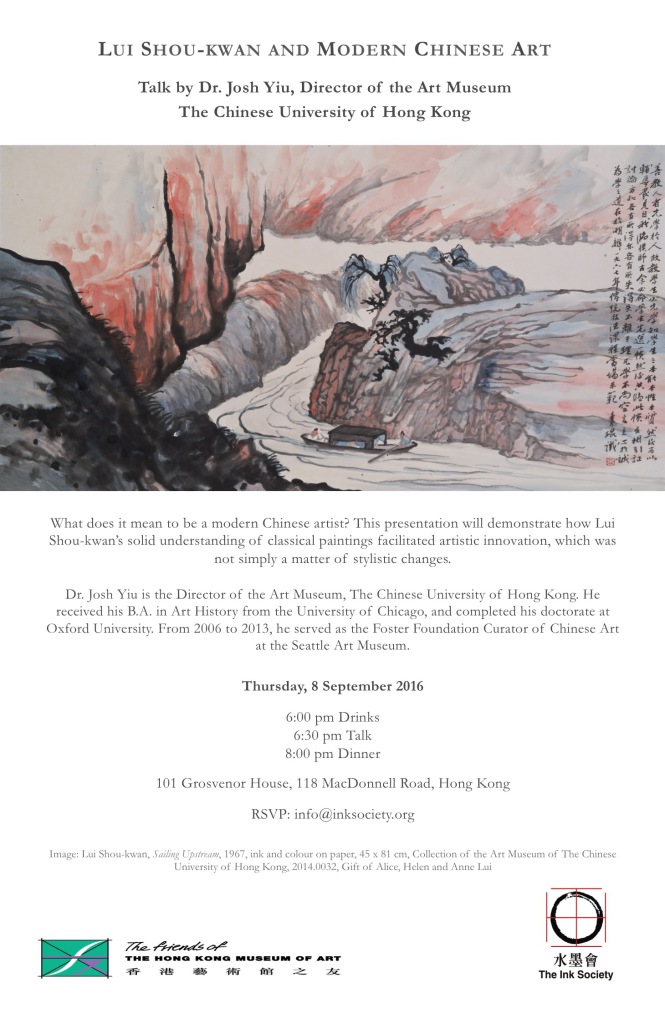 Lui Shou-kwan and Modern Chinese Art
Talk by Dr. Josh Yiu, Director of the Art Museum, The Chinese University of Hong Kong
Co-presented by The Ink Society and the Friends of the Hong Kong Museum of Art
8 September 2016
In this insightful and engaging talk, Dr. Josh Yiu presented his latest research on Lui Shou-kwan's annotations in "Modern American Painting and Sculpture" by art historian Sam Hunter (1923-2014). Lui's detailed notes indicate his deep interest and understanding of Western art. While Lui studied and was inspired by the work of Jackson Pollock (1912-1956), he also challenged the American painter's views.
Lui firmly believed that Chinese painters could draw from a much richer artistic tradition than Western artists. Furthermore, he believed "the notion of spirit resonance in Chinese painting is, coincidentally, the sum of the three goals of global contemporary art: the dissemination of ideas, the expression of feeling, and the grasp of comprehension. From a philosophical standpoint, Chinese painting emphasizes spirit resonance but not beauty. This is truly the ultimate expression of art. Western art has to wait until the 20th century to conclude that 'Art needs not beautiful.'"
At the end of his talk, Dr. Yiu quoted Lui's comment on ink painting in Hong Kong: "Ink painting in Hong Kong has become a major and representative force of Chinese art…even though mainland China or Taiwan may not recognize Hong Kong's contribution". We do hope that further scholarship, such as Dr. Yiu's extensive research, will bring to light Lui Shou-kwan's importance and contribution in the development of Chinese art in the twentieth century, both within the art world and the general public.