29 September 2018
Hong Kong Convention and Exhibition Centre, Hall 3
Saturday, 29 September, 4.30pm to 6pm
"Wu Guanzhong's artistic and affective connections with Hong Kong"
Szeto Yuen-kit, Curator (Chinese Painting and Calligraphy Collections), Hong Kong Museum of Art
Wu Guanzhong (1919-2010) dedicated his entire life to exploring the modernisation of Chinese painting and the nationalisation of oil painting. He opened up a path for a modern taste that brought Chinese and western, past and present, in fusion. Wu was not only a renowned 20th century painter, but also an eminent art theorist and educator. He believed that artistic works should not depart from emotional exchange with the people, so he wished to create works that suited both refined and popular taste.
Wu Guanzhong frequently visited Hong Kong for exhibitions and art activities. Wu rated Hong Kong's cultural setting highly. He liked the fair systems of the city, which was also a meeting point of the East and the West. Wu had always cherished and trusted the Hong Kong Museum of Art with high commendation on its curatorial and interpretation approach of his art and said, "It can read through and comprehend my artistic exploration." He and his family have made many donations to the Hong Kong Museum of Art over the years, making up a huge and comprehensive collection of over 450 works, including his very last paintings completed before death. The Museum will showcase the master's donated works in the new "Wu Guanzhong Art Gallery" in the second half of 2019. Educational and promotional activities will also be organized to propagate Wu Guanzhong's art and his great spirit of selfless contribution.
Cantonese with simultaneous interpretation in Mandarin
Szeto Yuen-kit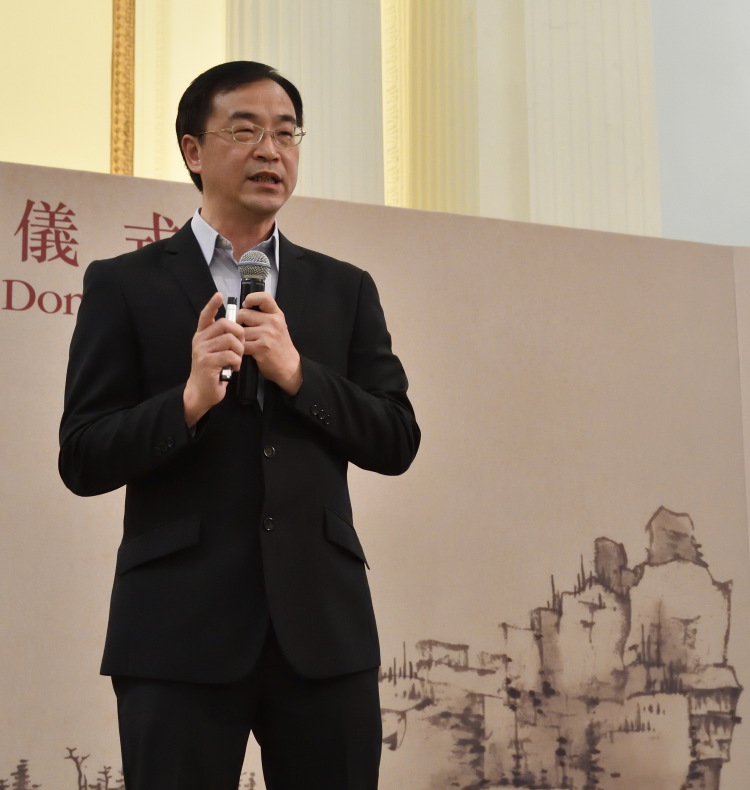 Szeto Yuen-kit received his BA (Art Education) from Warwick University, MPhil (Chinese Art History) from Hong Kong University, and Diploma in Museum Studies from Sydney University. Since 1986, he has been Curator of the Hong Kong Museum of Art responsible for the Chinese Painting and Calligraphy Department, including the Xubaizhai, Chih Lo Lou and Wu Guanzhong collections. His expertise is in Ming, Qing and 20th century Chinese paintings, as well as in subjects related to Chinese art education. He has published many academic articles and delivered lectures in universities and educational institutes in Hong Kong and mainland China. He is an academic member of the Wu Guanzhong Research Centre (Tsinghua University) and Researcher of the Beijing Painting Academy. Important exhibitions organised by him include The Pride of China: Masterpieces from the Palace Museum, Ming and Qing paintings from the Liaoning Provincial Museum, Paintings from the Shanghai Museum and Song, Yuan and Ming paintings from the Osaka Art Museum. He had also organized many solo exhibitions of 20th century masters including Qi Baishi, Li Keran, Lin Fengmian, Huang Yongyu, Pan Tianshou, Feng Zikai and Wu Guanzhong. From 2004-06, he broadcast a series of talks on Chinese art appreciation on Radio Television Hong Kong.