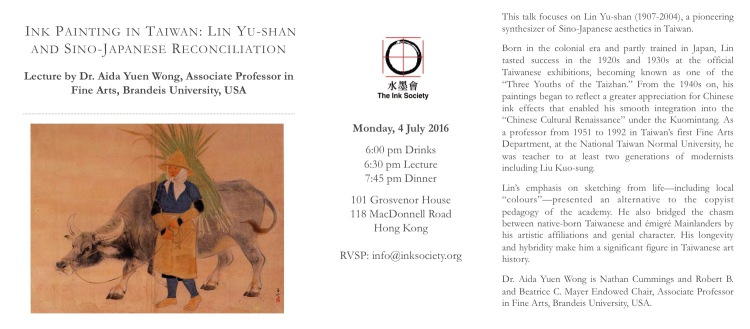 Ink Painting in Taiwan: Lin Yu-shan and Sino-Japanese Reconciliation
Lecture by Dr. Aida Yuen Wong, Nathan Cummings and Robert B. and Beatrice C. Mayer Endowed Chair Associate Professor in Fine Arts, Brandeis University, USA
Presented by The Ink Society
4 July 2016
The focus of the talk was Lin Yu-shan (1907-2004), a pioneering synthesizer of Sino-Japanese aesthetics in Taiwan. A native-born Taiwanese and partly trained in Japan, Lin tasted success in the 1920s and 1930s at the official exhibitions in Taiwan, becoming known as one of the "Three Youths of the Taizhan."
As a professor from 1951 to 1992 in Taiwan's first Fine Arts Department, at the National Taiwan Normal University, he was teacher to at least two generations of modernists including Liu Kuo-sung.
Dr. Wong spoke on Lin Yu-shan's artistic vision and the development of his art. Lin foremost emphasized sketching from life and using local "colours" and themes, which presented an alternative to the copyist pedagogy of the academy.
He also bridged the chasm between native-born Taiwanese and émigré Mainlanders by his artistic affiliations and genial character. His longevity and hybridity make him a significant figure in Taiwanese art history.
Dr. Wong also introduced the work of three contemporary artists based in Taiwan: Chiang Ming-hsien (b. 1942), Li Yihong (b. 1941) and Yuan Jai (b. 1941). Their synthesis of Chinese, Western and Japanese elements is representative of an art that is uniquely Taiwanese.