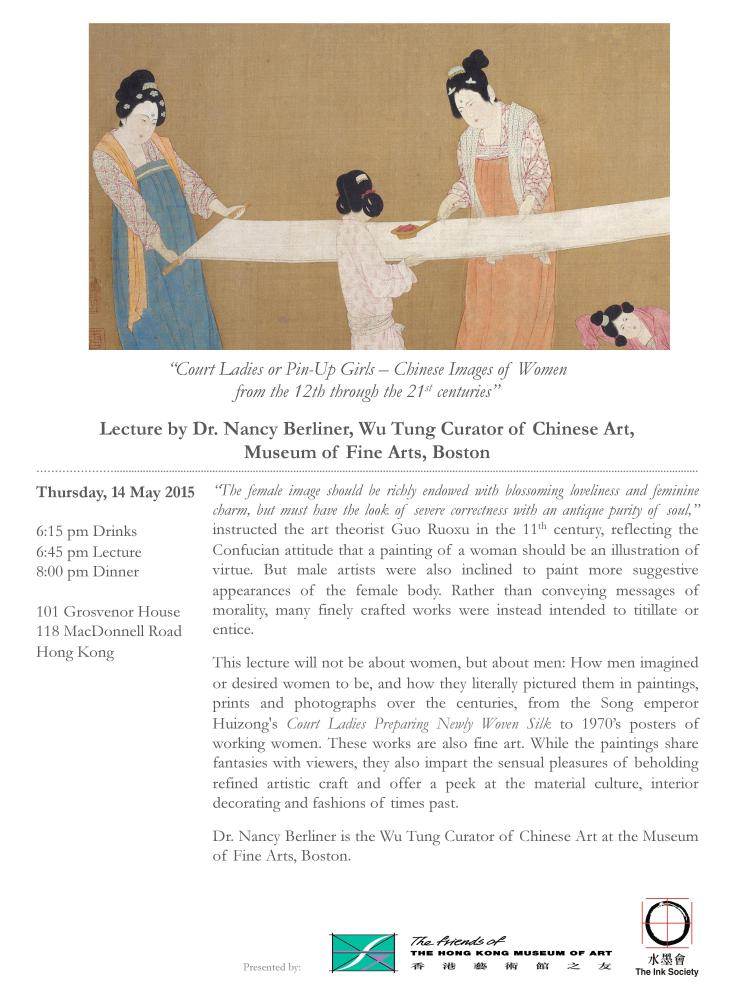 Lecture by Dr. Nancy Berliner, Wu Tung Curator of Chinese, Museum of Fine Arts, Boston.
Co-presented by The Ink Society and Friends of Hong Kong Museum of Art
14 May 2015
Court Ladies or Pin-Up Girls? – Images of Women by Chinese artists
from the 12th through the 21st centuries
The exhibition "Court Ladies or Pin-Up Girls?" at the Museum of Fine Arts (MFA), Boston, features more than 30 Chinese paintings, prints, posters and photographs of women from the 11th through the 21st centuries.
In this illuminating and insightful lecture, Dr. Berliner presented to us highlights from the exhibition, which include "Court Ladies Preparing Newly Woven Silk" (early 12th century, Emperor Huizong), one of the MFA's great masterpieces of Chinese painting, and "Eight Beauties on the Balcony of a Brothel" (1736).
Other highlights that Dr. Berliner presented were 18th century erotic albums, a hand coloured photograph of a courtesan from Yaohua Studio, a 19th century woodblock print, 1930s advertisement posters, 20th century propaganda posters, as well as the most recent work in the exhibition, "Embroidered Springs Dreams" by Hong Lei (b. 1960).
Dr. Berliner emphasised that these works (which were all created by male artists), reflect the fantasies of the male artist and patron. Dr. Berliner also pointed out that in the 17th and 18th century paintings, the backdrops, embellished with the finest crafted furniture, scholarly accoutrements and opulent living quarters, were also likely to have been a reflection of the artist's vivid imagination.