Hong Kong Convention & Exhibition Centre, Hall 5B
Friday, 15 December, 2.30 pm to 4 pm
Dr. Stephen Little, Florence and Harry Sloan Curator of Chinese Art, Head, Chinese, Korean, and South & Southeast Asian Departments, Los Angeles County Museum of Art (LACMA)
This talk examines the history and development of the Chinese art collection at the Los Angeles County Museum of Art (LACMA), the largest art museum on the west coast of the United States. Starting in the 1920s the museum's permanent collection focused primarily on traditional Chinese art of the Shang through Qing dynasties, but in the 1970s the museum began to collect works of such modern Chinese artists as Chen Shaomei, Pu Ru, Huang Binhong, Fu Baoshi, Zhao Shao'ang, Zhang Daqian, Liu Guosong, and Wang Jiqian. Since 2011 LACMA has begun to collect more recent works by Li Keran, Li Huasheng, Lu Yushun, Zhang Hong, and Zheng Chongbin. This talk will also introduce a major promised gift to the museum of over 250 works of contemporary Chinese ink art, including important works by Gu Wenda, Li Huayi, Li Jin, Liu Dan, Qiu Deshu, Qiu Shihua, Qiu Zhijie, Lin Tianmiao, Wang Dongling, Wang Keping, Xu Bing, Zhan Wang, and Zhang Yu (among others) - all of which will establish LACMA as a leader in the promotion of Chinese ink painting in the United States.
In English with simultaneous Mandarin interpretation
Biographies
Dr. Stephen Little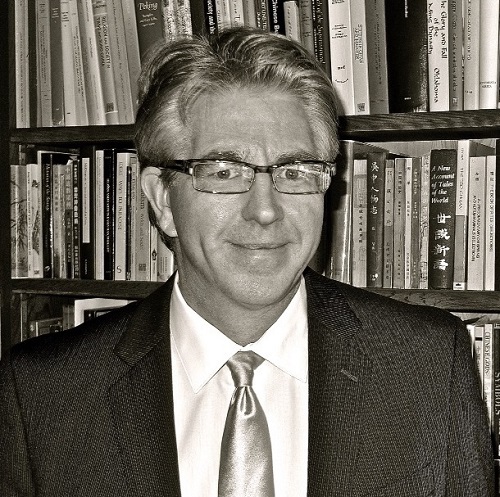 An authority on East Asian art, Stephen Little grew up in Southeast Asia and the Middle East. He received his BA from Cornell University (1975), MA from UCLA (1977), and PhD from Yale University (1987). He served as Curator of Chinese Art at the Asian Art Museum of San Francisco (1977–1982) and the Cleveland Museum of Art (1987–1989); Curator of Asian Art at the Honolulu Academy of Arts (1989–1994); Pritzker Curator of Asian Art at the Art Institute of Chicago (1995–2002); and Director of the Honolulu Academy of Arts (2003–2010) before coming to LACMA in 2011. His research interests include Chinese and Japanese painting, Chinese and Korean calligraphy, Chinese ceramics, and the classical arts of Southeast Asia. His publications include Chinese Ceramics of the Transitional Period (1983), Visions of the Dharma: Japanese Buddhist Paintings and Prints in the Honolulu Academy of Arts (1991), Spirit Stones of China (1999), Taoism and the Arts of China (2000), Chinese Paintings from Japanese Collections (2014), and 17th-Century Chinese Paintings from the Tsao Family Collection (2016). Little has taught at the University of Virginia, the University of Chicago, the University of London, and Harvard University.